LISA Sales
Facilitate sales with the LISA ERP software for the food sector
LISA Sales takes a permanent place in complete ERP software for the food sector. Thanks to the link with the other modules, a new sale sets a new process in motion – from drafting a work order for a stock update to final invoicing.
The order comes in via EDI or an ,external web shop, but the manual input is also easy and fast. In addition, the ERP software sales module for the food sector also includes sales contracts and the configuration of various tools.
Useful features in LISA Sales
Discounts and promotions: Do you want a promotion for a specific customer group or do you want to give one of your customers an additional discount? Anything is possible! You can also easily enter specific promotion periods.
Route management: The order is automatically placed on the correct route using the corresponding shipping or delivery date. The volume calculation tool ensures optimal route management.
Picking: Configure everything via an intuitive touchscreen on the shop floor, whether or not linked to a pair of scales and a barcode scanner. Do you prefer picking using warehouse scanners? Then LISA determines the optimal route on the basis of, for example, the shelf life. This saves time, money and errors.
Linking other modules: Do you want to keep track of empties management with a sale? The system will do the invoicing automatically or send an update to LISA Stock. To draw up effective invoices, LISA Sales passes on all the necessary data directly to LISA Financial.
Clear reporting: LISA provides a clear overview of the goods flow through various reports and consultation screens. Weekly sales, sales totals, totals via discounts and promotions, etc., you will find a wealth of financial information in this ERP software for the food sector!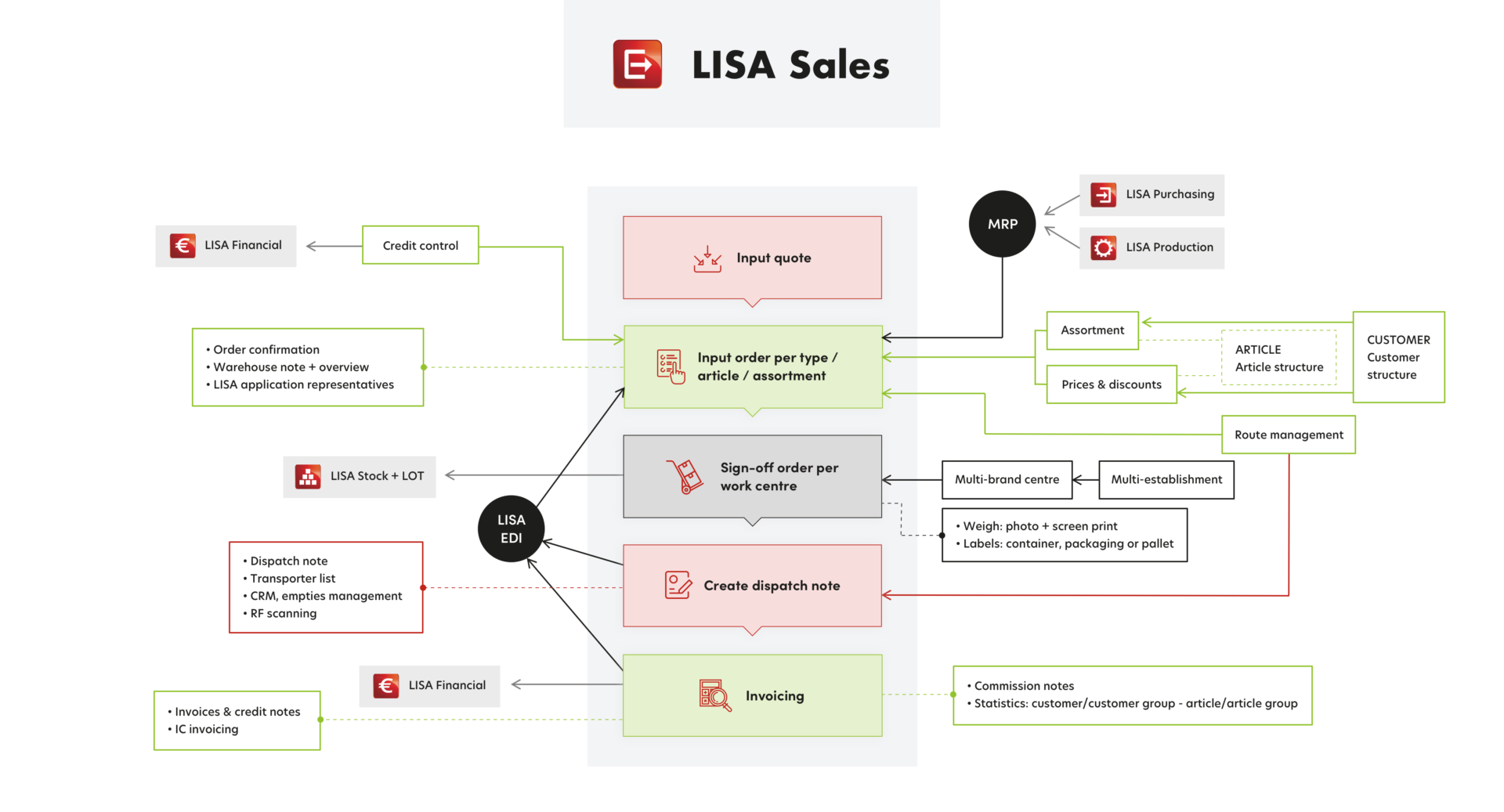 LISA Sales as real added value