LISA Purchase
Transparent purchases thanks to the ERP package with a focus on the food industry
Would you like to see your purchase transactions running optimally and efficiently? LISA Purchase is your ideal partner! The module not only ensures that the purchaser always has the right supplier information, it also allows you to compare suppliers' products with each other.

LISA Purchase is one of the modules from our LISA ERP package for the food industry. Thanks to the smooth interaction across the modules, LISA Purchase also assists with smooth stock management and efficient accounting.
LISA Purchase in a nutshell
Correct supplier information: Order products or request quotes? LISA Purchase displays all potential suppliers along with a complete supplier evaluation.
Accurate stocks: Quickly check which goods are at or near the minimum or maximum stock level. Moreover, LISA can generate order proposals when certain stocks reach the lower limit.
Ingenious approval flow: Easily determine who may make investments, who may order for which department, who may consult which orders, etc. With this ERP package, with its focus on the food industry, you always have the right person in the right place.
Fast entry: Receive purchases using touchscreens or warehouse scanners. The products are automatically assigned in stock and tracking can start. You can also register empties and other quality parameters.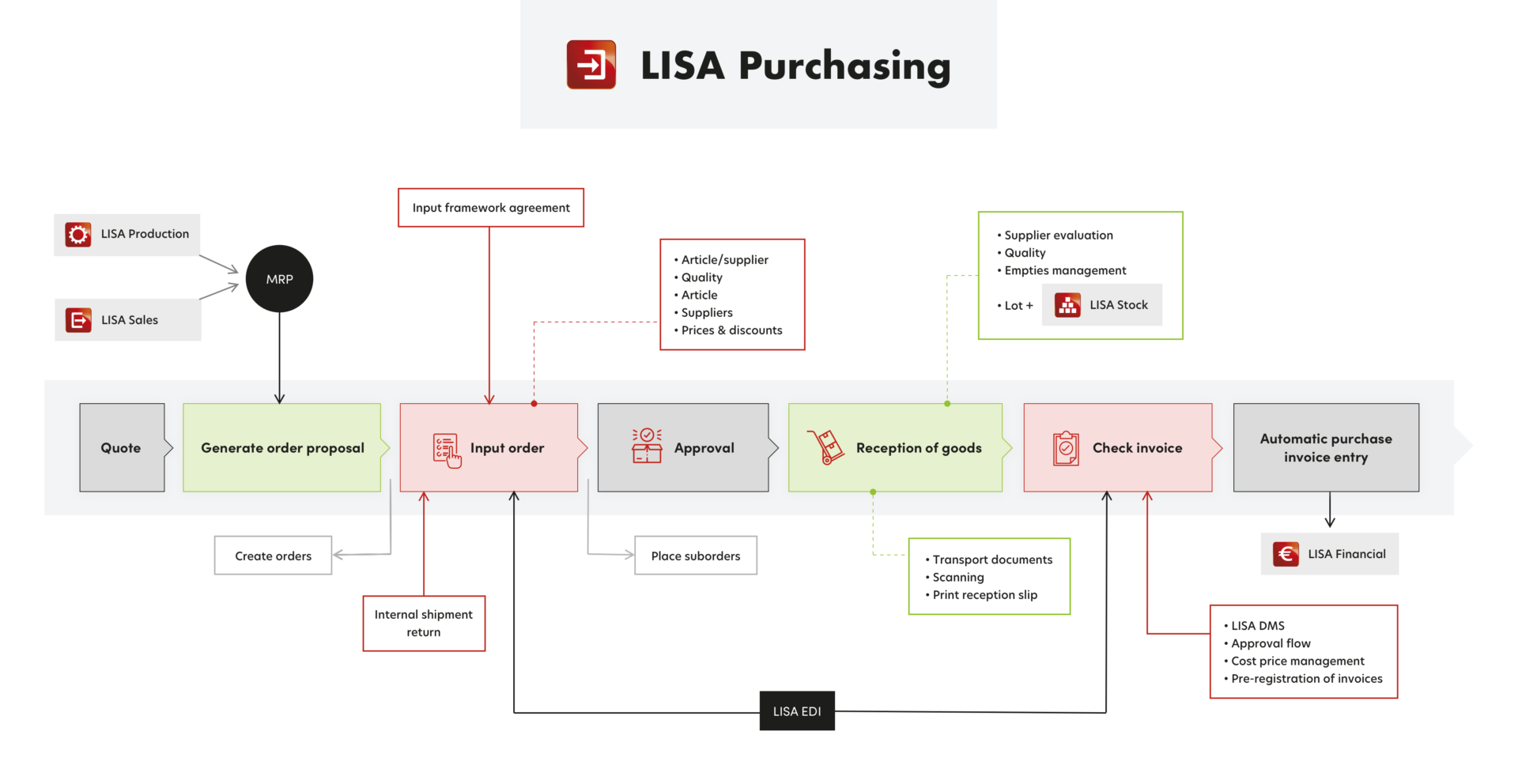 LISA Purchase as the best buddy for LISA Financial and LISA Stock
LISA Purchase forms part of the complete LISA ERP package for the food industry. It is also fully integrated with LISA Financial, which entails numerous benefits.
For example, after checking it with the order, you can automatically enter and also digitise a purchase invoice via the DMS module. The purchase details can in turn be integrated automatically in the cost price calculation.
Stock fluctuations are accurately monitored. This results in minimum stock costs and an extremely smooth product flow. Thanks to specific features (such as the option to create a list of receivable invoices), LISA Financial can take account of any stock fluctuations in the monthly statement.
LISA Purchase in practice